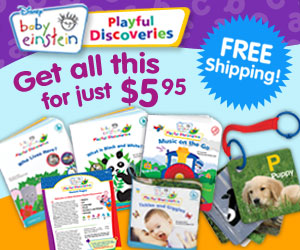 Here's a fun one for those of you with little ones – a nice deal on the ever popular Baby Einstein Books!
Right now you can score a Baby Einstein Welcome Package for ONLY $5.95 with FREE SHIPPING!  The package includes 3 board books, 1 plush book and discovery cards with an attachable ring!  Note – this is a monthly book club, however there is no obligation to make any future purchases (cancel at ANY TIME).
Additional Details:
Bonus book 50% Off: Jumbo board book, Baby's First Words
Receive a parent page with tips on how to introduce your baby to language, music, animals, nature and art.
Make connections between images in the book and in the real world.
Create lasting memories while developing a life-long love of reading.
Shipping is FREE!
Control your membership online.
Risk free. Cancel anytime with NO purchase commitment!
*If you choose to continue your membership, you'll receive a new age-appropriate package each month including 3 books and a pack of discovery cards.  If you only want the welcome package, be sure to go online and cancel once you receive your items.
* This post may contain affiliate links. Read my disclosure policy HERE.